Cicily Corder
---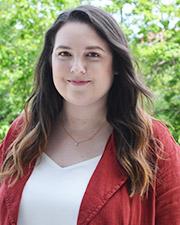 Graduate Academic Advisor
Contact Info
Lindley Hall Room 217A
Lawrence

---
Biography
—
Cicily serves as the Graduate Academic Advisor for departments in the College of Liberal Arts & Sciences. She provides advising and administration guidance for graduate students during their time at KU. She supports students during the admissions process, enrollment, petitions, comprehensive/final exams, and graduation. She also aids faculty with University policies and procedures along with recruitment efforts and strategies.
The departments she serves are:
·    Geology
·    Geography and Atmospheric Sciences
Cicily joined the COGA team in 2019. She earned a B.A. in French and a M. Ed. in Adult and Higher Education with an emphasis in Student Affairs from the University of Oklahoma. While from Oklahoma originally, she has lived in 4 other states and has studied in France and Italy. She has a strong passion for everything involving higher education, especially in regard to social justice, equitable access, and international students. In her free time, she enjoys catching up on recent TV shows, reading The Chronicle, and playing with her cats.