Elizabeth Wesley
---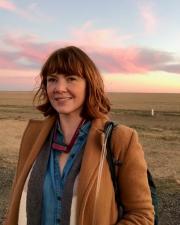 Biography
—
Advisor: Nathaniel Brunsell
Education
—
M.S. in Geography, University of Kansas, 2018
Honors
M.S. in Urban Planning, University of Kansas, 2018
B.S. in Geographic Information Science, Texas State University, 2014
Summa cum laude
Research
—
Coupled human-natural systems; environmental justice, public health, and climate change; characteristic scales of spatiotemporal variability; landscape structure and function in human-dominated landscapes; surface energy balance and energy fluxes in urban areas; Bayesian statistics and information theory; GIS, remote sensing, and modelling; data visualization and scientific communication.
Selected Publications
—
Wesley, E. J., & Brunsell, N. A. (2019). Greenspace Pattern and the Surface Urban Heat Island: A Biophysically-Based Approach to Investigating the Effects of Urban Landscape Configuration. Remote Sensing, 11(19), 2322. doi:10.3390/rs11192322
Citizen Science entry (2018), Warf, B., ed. The SAGE Encyclopedia of the Internet. Sage Publications.