John Paul Henry
---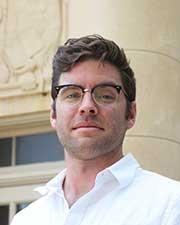 Biography
—
Advisor:
Dr. Shannon O'Lear
Educational Background:
BS Photojournalism, Southern Illinois University-Carbondale
Dissertation:
Visual Practices of Affect: Tracing Authoritarian Assemblages and Resistance Practices in Cuban Politics
Research Interests:
As a political geographer John Paul studies the spatial, embodied, and geopolitical implications of surveillance and other visual practices. In his dissertation research, he approaches the gendered and racialized ways surveillance is experienced through the lens of sousveillance, the practice of filming those in power. He collaborates with Cuban activists to understand visuality in terms of knowledge-creation practices and to amplify lived experiences into new affectual capacities. 
Selected Publications
—
Henry, John Paul (2022). Impact of the 2020 United States presidential election in the Cuban perspective. Ed. B. Warf and J. Heppen. Geographies of the 2020 Election. Routledge. Forthcoming.
Henry, John Paul (2021). Complicating the Role of Sight: Photographic Methods and Visibility in Slow Violence Research. Ed. S. O'Lear (Ed) A Research Agenda for Geographies of Slow Violence. Edward Elgar Publishing.
Selected Presentations
—
American Association of Geographers National Conference
Paper Presentation: Film as Geopolitical Intervention: a collaborative, transnational creative project
April 2021
American Association of Geographers National Conference
Panel Presentation: Film as Geopolitical Intervention: a collaborative, transnational creative project
April 2021
American Association of Geographers, Great Plains Rocky Mountain Regional Conference
Picturing Slow Violence: Eliciting Experiences in Rural, Toxic Places
Oct. 2019
Center for Latin American & Caribbean Studies, KU. Graduate Research Symposium
Place Attachment and Cuban Revolutionary Symbolism
April 2019
American Association of Geographers National Conference
Picturing Power: Innovative Visual Methods in Critical Geography
April 2018
Awards & Honors
—
(2021-22) Institute for Policy & Social Research Doctoral Research Fellow
(2021) Harry S. Truman Good Neighbor Foundation's Sherman and Irene Dreiseszun Scholarship (Awarded)
(2021) Pierre A. Stouse Award - Department of Geography and Atmospheric Sciences and Latin American Studies (Awarded)
(2021) Dwight Eisenhower/Clifford Roberts Graduate Fellowship – KU Graduate Studies (Finalist)
(2021) Stansifer Fellowship – Center for Latin American and Caribbean Studies (Awarded)
(2020) Pierre A. Stouse Award - Department of Geography and Atmospheric Sciences and Latin American Studies (Awarded)
(2019) Social Justice Award, Research Excellence Initiative. College of Liberal Arts, University of Kansas. (Awarded)