Dan Rose
---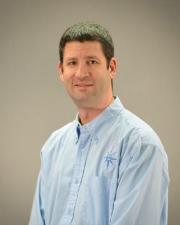 Advisory Board Member
BGS in Geography (with an emphasis in American Studies and Environmental Geography), University of Kansas, 2013 Geospatial Services Manager with the City of Columbia, MO
Biography
—
Dan has worked for over 20 years in the computer drafting and GIS technology fields, mostly in the realm of local and county government. Dan graduated from KU in 2013 with his GIS degree, and returned to teach the Fall 2018 GEOG 358 course at KU. He also operates his own GIS Consulting Company, mapping utilities.
He served on the Kansas Association of Mappers' (KAM) Executive Board from 2008 to 2010, as KAM President in 2011, and as KAM's Publication Committee Chair from 2007 through 2015. He received ESRI's honor as a 'GIS Day "Super" Hero in 2005, and KAM's 'Outstanding Kansas Mapping Project' award in 2008 and again in 2010 both for work in utilities GIS.
He has presented numerous times at multiple KAM conferences, at the bi‐annual Mid‐America GIS Consortium Conferences, and at the 2016 ESRI User Conference. In addition to his regular career, he has also started a GIS Consulting company named '360° GIS Consultants' (https://www.facebook.com/360GIS), mostly working with his small, rural hometown – Erie, Kansas. Since 2004, Dan has also traveled annually back to his hometown, presenting on GIS Day.