Jeff Krecic
---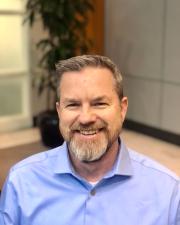 Advisory Board Member
Certified Mapping Scientist UAS (CMS) by American Society of Photogrammetry and Remote Sensing (ASPRS).
MA in Geography, University of Kansas, 2007
Biography
—
Jeff is a Geospatial Project Manager for Alynix, a subsidiary of George Butler & Associates in Lenexa Kansas.  Alynix provides advanced remote sensing, GIS, and professional survey as well as custom solutions. 
Previously, Jeff was the Manager of Flight Operations at Tukuh Technologies in Kansas City, MO.  Tukuh is owned by the Paskenta Band of Nomlaki Indians from Northern California.  Jeff operates and maintains the fleet of UAVs the company uses for aerial photography, mapping and inspection work.  He is the chief pilot as well as project manager, estimator, GIS analyst and mobile LiDAR operator
Prior to Tukuh, Jeff worked at MJ Harden for seven years.  He started as a camera operator providing aerial photography and LiDAR.  For three years he spent hundreds of hours in the back of a Piper Navajo operating an Intergraph Digital Mapping Camera (DMC).   When the travel wore on him he moved on the flight planning and project estimating. 
Jeff has presented commercial UAV capabilities and regulations for the University of Kansas, Haskell University, The United States Army, Air Force, Kansas Association of Mappers (KAM), Mid America GIS Consortium (MAGIC), and the Society of American Military Engineers (SAME). 
While at KU Jeff's focus was on soils and geomorphology.  He was a GTA and taught Physical Geography Lab, which he loved.  Jeff has a private pilot license and a commercial UAV certification.  A long time ago he served in the US Air Force as a command post controller.
Jeff lives in Olathe, Kansas with his wife Leeanne, who is an accomplished web comic creator.  They have two dogs, two cats and lots of little fish.