Nathan Wendt
---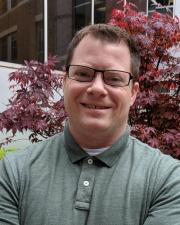 Advisory Board Member
B.S. Psychology, University of Wisconsin - La Crosse (2006)
B.S. Atmospheric Science, University of Kansas (2013)
M.S. Atmospheric Science, University of Illinois (2015)
Biography
—
From his educational background, you can see that Nathan enjoys thinking about and trying to understand two equally complex things: people and the atmosphere. While pursuing advanced education in counseling psychology, he fortuitously found himself Kansas where his passion for the weather on the Great Plains grew. Before long, the decision was made to change course and become a meteorologist. His undergraduate experience in Kanas, which included research and field work with Dr. Nate Brunsell, gave him a great deal of skill in critical thinking and scientific computer programming. His time at KU built a firm foundation that prepared him for further education at the University of Illinois, where he got his master's degree in 2015. His graduate research involved understanding storm scale interactions between supercell thunderstorms and involved numerical modeling on high-performance computing systems.
Nathan's specific area of interest has always been severe weather forecasting. Ever since starting on the path to become a meteorologist, the goal was to find a way to work as an operational forecaster in the National Weather Service. Luckily, through hard work and his educational background, he was able to start his career at the Storm Prediction Center (SPC) as a Cooperative Institute for Mesoscale Meteorological Studies (CIMMS) Research Associate. While in that position, he helped to develop methods to improve SPC forecasts of severe hail. After three years of providing science support to SPC operations, the chance to become an operational forecaster came in 2017. Since that time, he has worked as an operational forecaster providing severe and fire weather forecasts for the contiguous United States. If you ever find yourself in a severe thunderstorm or tornado watch, he may have played a small role in issuing it.
Nathan lives in Norman, OK, with his wife and three children where he is an operational forecaster at the Storm Prediction Center. When he is not forecasting severe and fire weather, he continues to develop software and research ideas relevant to operational severe storms forecasting. You may also catch him driving around the Great Plains to observe severe storms.