Paul Stock
---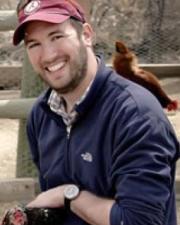 Sociology and the Environmental Studies Program
Contact Info
Fraser Hall, Room 721
Lawrence

---
Research
—
Paul is an environmental and rural sociologist with a primary interest in family farmers. Specifically, how do farmers respond to changes in the international economy? This work is also related to interests in environmental ethics, justice and agriculture, agricultural social movements, and the culture and symbolism of farming as it relates to policy.
Teaching
—
Teaching interests:
environment
food
agriculture
rural sociology
Selected Publications
—
Stock, P. (2019). New Farmers 2014/2018. P & T Committee. [9780578433134].
Stock, P. The Good Farmer: Culture and Identity in Food and Agriculture. Routledge/Earthscan. [9781138727960].
Awards & Honors
—
<div class="fp-award fp-container"><div class="aca-award">A 50 Best Book Cover in 2019 50 Books | 50 Covers Competition. American Institute for Graphic Artists. Received: 1-01-2019.</div><div class="aca-award">A 50 Best Book in 2019 50 Books | 50 Covers Competition. American Institute for Graphic Artists. Received: 1-01-2019.</div></div>