Senjuti Mallik
---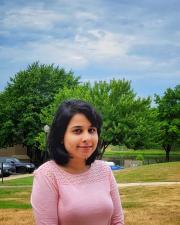 Education
—
B.S. in Geography, University of Calcutta, 2011
M.S. in Geography, Presidency University, Kolkata, 2013
Research
—
I am a human geographer who studies vulnerable populations' health by integrating social theory into health geography research. My PhD dissertation focuses on determining the likelihood of contracting COVID-19 among different social groups based on age, gender, caste, religion, income, and occupation within the slums of Kolkata, India. It also seeks to understand the treatment-seeking behavior of slum residents in the face of the pandemic.
I am particularly interested in understanding the role of 'place' in understanding health and the various health disparities specifically among vulnerable populations. This includes limits that the poor and disadvantaged communities suffer because of a lack of health and other services, as well as the risk of unfavorable health outcomes due to living in impoverished regions. My research is situated at the intersection of social justice and public policy and as a health geographer, I anticipate that my research will have beneficial policy implications and effective public health strategies in specific places, which might aid in combating the spread of infectious diseases in a social justice approach.
 
Teaching
—
Courses taught as Instructor of Record:
GEOG 102: People, Place, and Society
GEOG 201: Culture and Health
Selected Publications
—
Mallik, S. (2022). Colonial Biopolitics and the Great Bengal Famine of 1943. GeoJournal, 87(6), 1-17.
Awards and Honors:
(2023-24) Institute for Policy & Social Research Doctoral Research Fellow
Doctoral Student Research Fund (DSRF) from the Office of the Graduate Studies, KU (November 2022)
Summer Research Scholarships, Office of Graduate Studies, KU (April 2022)
Laura Bassi Scholarship (April 2022)
Center for East Asian Studies (CEAS) Graduate Scholarly Development Fund (March 2022)
College of Liberal Arts and Sciences (CLAS) Graduate Scholarly Development Fund (February 2022)
Selected Presentations:
Paper Presentations:
"Colonial Biopolitics and the Great Bengal Famine of 1943" Annual American Association of Geographers Meeting (in-person) Denver, March 23-27, 2023.
"A co-relation between environmental & socio-economic factors about sanitary napkin usage and related disease among women of some slums of Burdwan Municipality", 25th West Bengal State Science and Technology Congress, Department of Higher Education, Government of West Bengal, India, March 2018.
Service
—
Vice-President, Geography&Atmospheric Science Graduate Student Organization (G&AS GSO)
Communications Chair, Graduate Scholars of East Asian Studies (GSEAS).